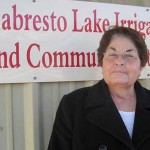 Mayor Esther García's life and work have been shaped by the landscape around Questa, New Mexico. In a recent op-ed she talks about her family connection to Rio Grande Del Norte and the community support for it's permanent protection.
From the Santa Fe New Mexican:
My family goes back many generations here, living and working in this unique and beautiful landscape. Many of us consider the area, including the stunning Rio Grande Gorge, which at some places is a half mile wide across and dropping to the Rio Grande 800 feet below, to be truly sacred land.

My grandfather, J. P. Rael, and his brothers started a cattle business and general store in Questa in 1930. When I was growing up, there was no running water. We walked to the store, grew our own food and put up hay for our cattle. We survived because of the land and water that nature had so generously provided us. As my grandfather said, "Without land you have nothing; without water there is no life."

As an elected official, I understand the difficult choices one must make when trying to balance competing interests. We need to meet the needs of a growing community, while ensuring that some of what attracts both visitors and those who will settle here stays just as it is. That is what I shared with members of Congress who may soon be considering legislation introduced by Rep. Ben Ray Luján and Sen. Jeff Bingaman to safeguard these special lands for our children and grandchildren…

There is overwhelming local support for this measure. Because of the collaborative way our congressional delegation has crafted this measure, many groups that haven't always seen eye to eye on conservation issues have come together to support protecting this special landscape. Community involvement was extensive and the considerations taken in the bill's language to accommodate the needs of traditional communities were significant.

That is why the overwhelming majority of Northern New Mexicans, including the Taos County Chamber of Commerce, the Mora Valley Chamber of Commerce, the Taos County Commission, the Latino Sustainability Institute and dozens and dozens of area businesses want to see this bill become law. Forever protecting the Rio Grande del Norte area would be a priceless gift for those who will come after us. The time has come.