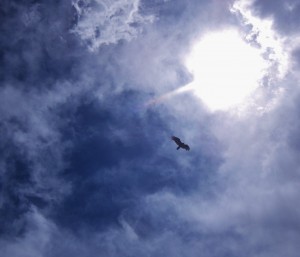 In her op-ed in the Santa Fe New Mexican, Aububon New Mexico's Executive Director Karyn Stockdale lays out her reasons for extending permanent protection to the Rio Grande Gorge region by designating the Rio Grande del Norte National Monument. Though she touches on the economic and tourism boosts the area will receive, her primary argument focuses on the region's critical wildlife habitat, especially for birds - from larger species such as eagles, hawks and falcons that nest in the Rio Grande Gorge, to smaller songbird species which depend on the riparian margins along the river's banks.
Stockdale writes:
During the spring and fall, the Rio Grande becomes a critical pathway for dozens of migrant species making their long journeys between their summer breeding grounds in the northern U.S. and Canada and their wintering grounds in Mexico, Central and South America. While everyone notices the larger migrants, like the trumpeting Sandhill Cranes, they are just a visible symbol of dozens of smaller species that cannot complete their migratory journeys without the habitats fed by the waters of the Rio Grande.
And it's not just an amazing assembly of birds that can be found in the Rio Grande Gorge region. Animals big and small live in the habitats of the high mesas of the Taos Plateau and Ute Mountain.
The annual Audubon Christmas Bird Count is currently taking place across New Mexico, providing not only a great opportunity to learn which birds are in our area but also to contribute to our understanding of them. Over time, these bird counts give us a picture of the health of bird populations and the environment, and the latest data beg us to pay attention. Last week, The Santa Fe New Mexican reported about the decline in the number of birds wintering in Northern New Mexico and across the United States. These long-term changes in bird numbers bring to light the need for us to make sure we are protecting important habitat for our resident and migrating birds.
Read the full article in the Santa Fe New Mexican.