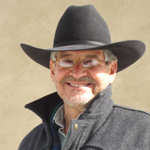 Veteran Erminio Martinez, from Taos, reflects on why Rio Grande del Norte should be permanently protected. From the Albuquerque Journal (April 29, 2012):
I was born and raised in Taos County and come from a ranching family that has lived off the land for eight generations. Today, as a registered grazing permittee, I continue to run cattle on several allotments throughout the Carson National Forest. Growing up in the ranching business allowed me the good fortune of spending most of my life in the great outdoors. Like my father and grandfather, I quickly learned to love the beauty of the wide-open landscapes and to understand the importance of sound conservation of the abundant natural resources on which so many New Mexicans depend for their livelihoods.

After my military service, I attended New Mexico Highlands University and then the National Judicial College. I served for 20 years as a magistrate judge in Taos County, and have worked for the Taos tribal government and the Pojoaque tribal government during my career. I continue to be active in conservation, including through my service with local land trusts.

To me, the wide open landscape of the Rio Grande del Norte area is a treasure that we must do all we can to protect. It is not only a natural treasure, but also a treasury of cultural resources and associations, evoking the Native American, Spanish, and American history that contribute to the diverse values of this area. Even though this region may seem relatively remote, it lies in the path of pressures for change that could slowly but surely affect the resources that makes this landscape so special.

Conservation is about exercising protection of our lands today with the foresight that our children and their children will inherit this precious landscape.

I believe that what Teddy Roosevelt said about the Grand Canyon should be our guidance for the Rio Grande del Norte: "In the Grand Canyon, Arizona has a natural wonder which is in kind absolutely unparalleled throughout the rest of the world. I want to ask you to keep this great wonder of nature as it now is. Leave it as it is. You cannot improve on it. The ages have been at work on it, and man can only mar it."

The Grand Canyon, of course, is a national park and is protected from all development. With the Rio Grande del Norte we have challenges, for this is a working landscape that embraces traditional land uses such as ranching, hunting, fishing and wood and herb gathering. For example, many local multi-generational ranching families like mine rely on their use of portions of these federal lands for grazing their livestock.

Fortunately, Sens. Jeff Bingaman and Tom Udall and Congressmen Ben Ray Lujan and Martin Heinrich are working to ensure these land uses can continue, and that the land will stay undeveloped. After gathering support over the last few years with a broad cross-section of community members and local businesses, they have introduced legislation to designate two new wilderness areas and safeguard 236,000 acres as a National Conservation Area. The Rio Grande del Norte Conservation Area Establishment Act (H. R. 1241 and S. 667)is crafted to protect the not just grazing but other traditional uses that we have enjoyed for hundreds of years.

The balanced legislation stipulates that a comprehensive conservation and management plan will be prepared, with full opportunity for input from local residents, including grazing permittees and acequias associations. In this sense, the legislation creates an overall conservation framework for the area, and the subsequent conservation plan will fill in essential details. This will be done in an open, public, and democratic process, which assures all of us who live and work here that our voices will be heard in shaping the conservation and management of this tremendous resource.

Permanent protection for the Rio Grande del Norte area will be a gift we can pass down to all the generations of New Mexicans who will follow us. Congress should listen to the many voices who support this bill – ranchers, sportsmen, business owners, local elected officials – and pass this conservation bill currently in Congress.